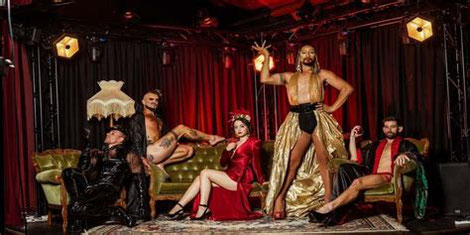 Oh my god! So delicious, so gorgeous, so sexy, so funny, so cute and so talented.
Briefs Factory brings us Briefs: Bite Club, performing for the first time in the Queen Elizabeth Hall on Southbank. Co-founder Fez Faanana was our MC for the night, he was adorably effervescent and candid. I have totally fallen in love.  
Full of gratitude for what they have managed to achieve and for what they have got through over the past couple of years - the show was conceived during the 'Fuckery', that's Covid to you and me, and brings a first time collaboration with Sahara Beck. The Briefs bring the pop promo to Sahara's fabulous songs.
Cute and sultry and gloriously talented, the songstress Sahara Beck provides an indelible backdrop to the devilishly hilarious and boisterous antics of the Briefs club. Famous for their combination of drag, burlesque and circus performances, the show was utterly divine.
They were cheeky, they were sensual, they funny, sexy and audacious. There was nudity and a raw captivating energy throughout.
The raffle was a delightful idea to connect with the audience, again it was, all of those adjectives above.
Joining Fez and Sahara in this night of debauchery were  Mark 'Captain Kidd' Winmill  - the LA King of Burlesque' also Co-founder of Briefs, Thom Worrell, Brett Rosengreen & Louis Biggs
What a fabulous night, I LOVED IT.