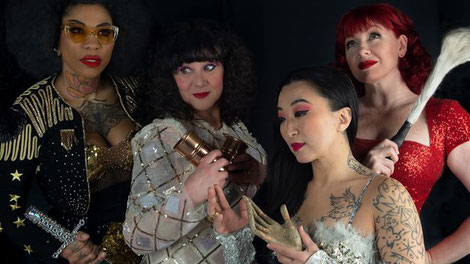 Last month I went to see ShowWomen at Jackson Lane Theatre. Life has surely got in the way of me writing up my review and sharing my total joy about this performance. I left the theatre feeling hugely excited and inspired by the show, for nothing excites me more than the brazen audacity of a woman who flouts her artistry unapologetically.
Here is my very brief review of the show. I do implore though, to keep an eye on these women. I am excited to see what they come up with next. 
Directed by Olivier award winning Marisa Carnesky, Showwomen goes back in time and looks at the daring Showwomen from the late 1800s to the 1950s.  Written and devised in collaboration with  (in my opinion 3 total goddesses), Hair Hanging artist Fancy Chance, Sword & spoken word artist Livia Kojo Alour and  whips, fire and flesh hanging artist Lucifire.  The show explores the history of marginalised British entertainers whilst revealing the political resistance of our 4 Showwomen and their own subjugation as female cabaret & performance artists in Britain. 
Their acts were interweaved with archival footage of other daring Showwomen, making social and political commentary of what it has been for them as women occupying this space in art. And how each of these women felt throughout their careers as bold performers,  whilst also treating us to death defying stunts. 
I loved the audacity of their acts. I love that they come to us today as middle aged women, wise to the ways of the world now and how they continue to dazzle and charm. All of them still as gorgeous and sexy as they always were. 
My favourite act was Fancy Chance's hair hanging, it was utterly mesmerizing. So incredibly beautiful, despite the pain I perceived she must surely be feeling. Though of course that pain is mine. For all of their acts share pain in common; the whips, the swords, the flesh piercing (not in tonight's show, but Lucifire hangs from hooks in other shows).  Individually, each artist explores the boundaries of pain and their resistance (or surrender) to it. 
It all goes hand in hand with their own admission that being a female circus performer is like being in a coven. And like a coven of witches they indeed were. Witch/goddess, however one likes to perceive women who tear up the rule book, the message of the show was as equally brave as their acts. Thought provoking, funny and at times sad. When women come together they are truly capable of creating magic.
The publicity claims that 'SHOWWOMEN will change the way you understand women in showbusiness – forever'. 
It most certainly did for me.
Discover more about Carnesky and her fabulous art - www.carnesky.com
Photo credit – Sarah Hickson